Before you GO there are some things you should KNOW about student travel.
Think through all aspects of your travel for any trip for safer, more enjoyable travel. In planning a responsible trip, consider the following:
Is this trip something your organization should do?
Is the trip in line with the mission and purpose of your student organization?
Is the trip in line with your vision and goals for the student organization?
Does your organization have the capability and resources to plan such a trip?
Does this trip make sense for your organization's membership? Bottom line, does this trip need to be taken to be beneficial to the group? What is the expected outcome?
Has the trip been approved through the organizational decision making process?
Have you discussed and assessed risks (financial, reputational, physical, and emotional) associated with this trip?
Have you made decisions about accepting, reducing or eliminating those areas of risk?
Do you have a plan for addressing the risk issues?
Have you discussed the trip with your advisor?
Have you planned appropriately to reduce risk?
Have you considered working with licensed, insured companies that can provide your travel service which can reduce risk for your group?
Have you initiated and completed any forms, waivers, rosters, etc., associated with your trip?
Do you have all the materials, equipment, and resources needed for a safe, responsible travel?
Forms for student travel
Documents such as these will be very useful, especially if a crisis occurs
Sample forms can be found on the Student Organizations and Involvement website: https://union.fsu.edu/sac/student-travel/forms-for-events
Sample forms include:
Waiver for Individuals: RSO Events
Waiver for Individuals: FSU Department or Entity Events
Travel Roster
Emergency Contact Sheet
Travel Plan
The Office of Student Organizations and Involvement strongly encourages that copies of these documents be shared with the student organization's advisor before the trip. Members of the our staff are available to discuss travel planning.
Travel Planning and Resources
Recognized student organizations should work with the Office of Student Organizations and Involvement to obtain copies of suggested travel waivers and waivers for other high risk activities and events. To be cautious and proactive, RSOs should create a travel roster, emergency contact sheet, and travel plan before traveling and take a copy of these documents along on the trip.
The TRAVEL ROSTER should include:
Names of all the organization's members who are traveling, including phone and email
The EMERGENCY CONTACT SHEET should include:
Emergency contact information for each member of the group traveling including:
Traveler's Name
Emergency Contact
Phone number (more than one if available)
Relationship to the traveler
The TRAVEL PLAN should include:
Name of the organization
Dates of the trip
Destination
Lodging and Accommodations
Planned stops along the route
Phone number where the organization can be reached at all times
Phone number of the closest local hospital near the destination in case of emergency
The organization members who are on the trip (travel roster)
Emergency contact sheet
Name of the organization President, contact information, and signature
Contact information for appropriate FSU contacts (advisor, department, etc.)
WAIVERS
All travelers should sign a waiver prior to leaving on the trip. If possible, waivers should specifically list travel as a risk included in the activity.
Sample waivers can be found on the Student Organizations and Involvement website
Documents such as these will be very useful, especially if a crisis occurs.
The Office of Student Organizations and Involvement strongly encourages that copies of these documents be shared with the student organization's advisor before the trip.
Tips for Air Travel
Comply with all federal laws regulating air travel and the rules of the specific airline you use
Comply with laws & rules regarding carry-on baggage and baggage weight restrictions
Air Travel for Student Organizations Using A&S Funds
Students traveling for an RSO trip via plane are encouraged to comply with all federal laws regulating air travel, the rules of specific airline being used, including with regards to carry-on baggage and weight restrictions. RSOs funded by SGA, COGS, and Campus Rec Sports Clubs air travel must be preapproved. Air travel to approved destination are paid by the traveler, and with prior approval and a paid receipt, can be submitted for reimbursement. Receipts should be in the name of the student receiving reimbursement: they must indicate a $0 balance, include the travel itinerary (class of seat and ticket number), and show payment method (cash, check, or last four digits of credit card). When booking online, the e-ticket and the billing information is necessary to submit to SGA Accounting. In many cases, SGA/COGS only reimburse for partial airfare.

Please note: Individuals can only be reimbursed for the pre-approved and pre-allocated amount, and only after they have completed the Travel Request and Expense Report. Successful and timely completion of these documents by students are essential for expedite the reimbursement process.
Tips for Rental Vehicles
Check with each private carrier about their specific policies
Rental car companies have a minimum age requirement for drivers
Many rental companies offer insurance on their vehicles. If the driver elects not to purchase this insurance, then the driver may assume all liability damage (property or personal), depending on the individual's own insurance policy. FSU provides NO INSURANCE for rental vehicles – this responsibility lies entirely with the driver of the vehicle
Important: New Safety Procedure Implemented
If there is only one authorized driver, the vehicle must stop overnight if estimated travel time (one way) exceeds 10 hours. In other words, for an 18 hour trip (one way), students may drive 10 hours then must stop overnight before driving the remaining 8 hours.
As an alternative, Avis will approve a 2nd driver but only if this person is 25 or older.
Renting a Vehicle as a student organization using A&S Funds
RSOs using A&S funds to rent a car for their trip must use the state contract with Enterprise. To obtain an estimate, call 1-877-690-0064 (Enterprise Reservations) or 1-844-393-9989 (National Rental), reference the state contract number, "XZ55622".

Electronic tolls, Sunpass charges, and gas fill-up are not included under the state contract for Enterprise/National. When renting vehicles with A&S funds, please pay cash for tolls and return vehicles with a full tank of gas. Should you request and acquire funds to be reimbursed for such expenses through SGA/COGS, your must collect and submit receipts to SGA Accounting.

Drivers must be students who are over 21 years of age. The standard rental rate in the contract is for a compact car, for 5 student travelers or less. Any more than 5 student travelers in a compact car is in violation of the contract. For more than 5 students, multiple cars or a van may be possible. When using SGA/COGS funds, the quote should be submitted to Nole Central with the Travel Request.

Please note: RSOs receiving funding from SGA/COGS will not book their own rental car but will receive confirmation from SGA Accounting once the reservation is placed on their behalf
Tips for Charter Buses
Bus Company: Bus companies may be beneficial for large groups, trips with multiple destinations or long-distance trips. Check in with the company regarding what you are required to pay for (driver's hotel, two drivers depending on distance). You will need an itinerary to receive an accurate estimate of expenses. All agreements with the company should be signed prior to leaving for the trip that include the duration (start and end times), the cost of the trip, and rest requirements for the driver. All students attending the trip should be included on the Group Travel Roster and shared with the organization advisor.
Travel Tips for Drivers
FSU provides no insurance coverage for personal vehicles.
Avoid all drinking, drugs, etc. including any prescription and non-prescription drugs.
Have in possession a legal driver's license and up to date insurance.
Know, obey, and uphold all traffic laws.
Wear your seatbelt & ensure that your passengers wear them…at all times.
Take responsibility for passengers. Only transport the number of passengers recommended for the vehicle.
Do not allow the number of passengers in a vehicle to exceed the number of seat belts available.
Friends and family are not allowed to travel in state owned vehicles. Consider whether it is appropriate for friends or family to travel in personal vehicles while traveling for University activities.
Things To Do Before You Leave
Check weather & make sure it's acceptable and only drive in safe conditions.
Find directions to your destination and take the safest acceptable route.
Find address and contact information for your destination.
Gather contact information for any other drivers/vehicles going on your trip.
Gather emergency contact information for all travelers.
Have each traveler sign a waiver prior to travel and leave copies on file on campus with an officer of your organization or advisor.
Leave a copy of your destination information, stops in-between, contact information for drivers, and emergency contact information with your advisor on campus.
Gather contact information for appropriate FSU contacts.
Vehicle should be in proper working condition. Perform a thorough pre-trip vehicle maintenance check of your vehicle.
Things To Take With You
Have all pertinent contact information on hand (FSU contacts, destination, other travelers, and traveler's emergency contact information)
Have map and directions of your route and destination for all vehicles traveling if traveling in a group
Take a fully charged cell phone on the trip
Have AAA or other 24 hour roadside assistance available
Items to Carry
Charged cell phone
Flashlight
Jumper cables
Toolkit
Flares
Bright orange vest
Spare tire & jack
First aid kit
Disposable camera
Blankets and bottled water
Ice scraper if going to cold weather area
Safe Driving
Drivers should be well rested, healthy and alert. Take breaks from driving and avoid driving more than two to three hours at a time.
Avoid operating vehicle at late hours or very early hours when it may be harder to stay alert.
Do not pick up hitchhikers or anyone you are not well acquainted with. Transport only those who are officially authorized to travel with your group.
Limit conversations with passengers while driving.
Avoid use of cell phone or playing music too loud while operating vehicle.
Require an alert passenger be seated in passenger seat at all times to assist the driver.
Avoid carrying firearms, ammunition, explosives, etc.
Avoid overloading vehicle with equipment, extra baggage, etc.
Be alert to construction areas or other hazards between you and your destination
Use the 511 telephone Travel Information System en route if available to get up to date road conditions
Coordinate and communicate departure time, arrival time, etc. to all concerned parties at home and at your destination point
Special Considerations for 15 Passenger Van Use
Passenger vans that can carry up to 15 passengers have unique handling characteristics and should only be driven by drivers with experience operating these vehicles
No more than 10 persons should be transported in a 15-passenger van
Do not place baggage on roof or luggage rack
It is extremely important to check for proper inflation of tires
Avoid making sharp turns in a van
Avoid overloading the back cargo area with too much weight/cargo
Obey speed limits – never exceed 85 miles per hour for any reason in a vehicle of this type
Wear seat belts at all times – all passengers
More information on Passenger Van Safety
Travel Tips for Passengers
Be aware that you are taking a risk riding in any vehicle and that you are doing so at your own risk and responsibility
FSU provides NO INSURANCE in case of an accident – this responsibility lies entirely with the driver of the vehicle.
Avoid all drinking, drugs, etc. including prescription and non-prescription drugs
Be safe passengers and do not disrupt the driver in any way
Know that the driver is responsible for your safety
Wear your seatbelt at all times
One passenger should be designated to sit in the passenger seat and stay alert in order to assist the driver
Travel Tips for Vehicle Maintenance
Before a long trip, take your vehicle to be serviced
Have a full tank of gas, especially if driving in cold weather
Check oil level
Check fluid levels – power steering, brake, washer, transmission, and radiator
Check tire inflation and wear
Check battery
Check lights – headlights, brake, tail, hazard, turn signals
Check windshield wipers
Change oil every 3 months or every 3,000 miles
Rotate tires every 6 months
Refer to www.samarins.com and click on "long car trip car checklist" for further information on car care
Tips for Campus Vehicles
Campus vehicles are not available to recognized student organizations unless they are working directly through a FSU department
Know the name of your personal roadside assistance if the campus department does not have one established (i.e. AAA, etc.)
Have insurance information readily available from both the campus department and your personal insurance
Review policies on using campus vehicles at http://policies.vpfa.fsu.edu/policies-and-procedures/general-university/fsu-vehicle-management-program-fvmp
FSU faculty and staff must read the University statement regarding volunteer service and complete the following form at http://hr.fsu.edu/PDF/Forms/VolunteerService_F.pdf
Students who drive a University-owned vehicle must be employees of the University or must meet the specific definition of a volunteer and fill out the "Record of Volunteer Service Form" which can be found at http://www.hr.fsu.edu/PDF/Forms/VolunteerService_F.pdf
University departments may have other requirements, training, education, etc. for volunteer service in addition to having volunteers sign the "Volunteer Statement" that follows:
Volunteer Statement
I understand that I am a volunteer as that term is defined in Section 110.501, Florida Statutes, and that I am volunteering to drive a Florida State University vehicle in the performance of an official University-related duty in accordance with Section 110.504. I agree and understand that in order to operate a Florida State University vehicle I must have in my possession a valid Florida driver license for the type of vehicle I am assigned to operate; that I will obey all laws and regulations regulating the operation of motor vehicles, as well as any Florida State University regulations and policies regarding use of University vehicles and transporting passengers; that I may not consume any alcoholic beverages or drugs, including nonprescription or prescription drugs, within eight (8) hours of driving; and that I must have personal motor vehicle liability insurance coverage in effect at all times while I am operating a University vehicle. I understand that in the event of an accident in which I am determined to be at fault, my personal motor vehicle liability insurance will be the first payer. 

I further understand that although Section 110.504(4), Florida Statutes provides that volunteers shall be covered by state liability protection in accordance with the definition of a volunteer and the provisions of Section 768.28, Florida Statutes, State Risk Management may not be willing to afford such liability protection to students who are volunteers. Notwithstanding the possibility that I may not receive the liability protection afforded by Section 768.28, Florida Statutes, it is still my desire to volunteer my services as a volunteer driver. I also understand that pursuant to Section 110.502, Florida Statutes, as a volunteer recruited, trained, or accepted by Florida State University, I shall not be subject to any provisions of law relating to state employment, to any collective bargaining agreement between Florida State University and any employees' association or union, or to any laws relating to hours of work, rates of compensation, leave time, and employee benefits, except those consistent with Section 110.504, Florida Statutes. I understand and agree that I must comply with applicable FSU regulations and policies. Finally, I understand that to the extent permitted by law, I shall be entitled to the protections of Section 768.1355, Florida Statutes, also known as the "Florida Volunteer Protection Act."
Tips for Driving in Bad Weather
Plan ahead:

Check the weather before you leave and allow additional time to reach your destination
Take an alternate route to avoid the brunt of bad weather if you can
Postpone your trip until the weather is improved
Carry a map in case a route change is necessary

Drive more slowly than usual to avoid skids and accidents
Leave more room in front of you as a "cushion" when driving in rain, sleet, snow, or other inclement weather conditions
Make sure all equipment on your vehicle is in working order:

Have tires and brakes checked more frequently in winter months
Windshield wipers should work and headlights should be clean
Before leaving clear ice or frost from windshield and mirrors
If you need to pull over to scrape ice or snow, do so in a safe place

Use low beams in fog:

Turn on headlights (low beams only) in fog, night or day
Maintain a long following distance and drive slowly in fog
Avoid going over the center line into oncoming traffic – stay right

Listen to the radio for weather updates or alternate routes
Be sure you and your passengers wear your safety belts at all times
Pull over if you need to at a safe spot off the road and rest if you are tired or the weather gets particularly bad
If the bad weather involves snow or heavy rain, be sure you are not pulling over into a deep puddle or snow bank
Driving During Inclement Weather Conditions
Tips for When Your Vehicle Breaks Down
The first consideration should be for the safety of yourself and your passengers
Determine your location by noticing landmarks, signs, road markers, etc.
Pull off the road as far as possible to the right and on level ground
If you cannot get your vehicle to a location away from traffic or if you are uncertain about your safety and think your vehicle may be struck from behind, do not stay in the vehicle
If you smell gas extinguish any lit cigarettes and exit the vehicle immediately
Do not stand behind or directly in front of your vehicle
Do not risk injury by attempting to push your vehicle to a safe location
If you cannot pull off the road turn on the vehicle safety flashers, place flares or warning triangles directing traffic away from you
Raise your vehicle's hood and tie a brightly colored cloth, etc. to the antenna or door handle
If you have a cell phone call for roadside assistance or help immediately. Make the call from your vehicle if you are safely out of traffic. Otherwise, call from a safe distance from the vehicle and the roadside
In most circumstances if you are able to pull away from traffic, it is safest to remain in your vehicle until help arrives
If you have no cell phone and must rely on the assistance of a stranger, have them notify the authorities for you
Remain calm and cooperative when assistance reaches your location
Tips in Case of an Accident
If you are involved in an accident while driving, you must stop.
If anyone is hurt, you must get help.
Pull over to the side of the road if possible and turn on your hazard lights
Contact the appropriate law enforcement agency and request immediate assistance (dial 911)
Trade information with everyone involved in the accident:

Name, address, phone number of all drivers
Name, address, phone number of all passengers and/or witnesses
Driver's license numbers and license plate numbers
Insurance companies of all drivers involved
Registered owners of all cars
Year, model, make, etc. of all cars involved

Do not discuss what happened with anyone but the police. Do not say it was your fault, and do not make accusations. Take your own notes of what happened if conditions allow and photos of the scene and vehicles if possible
Immediately report the accident to your insurance company
If you have or suspect an injury, visit the doctor right away
Tips in Case of a Rental Car Accident
Follow steps listed above in "Tips in Case of an Accident", and add the following steps:
Call the police, even with very minor accidents where negligible damage occurs
If the police do not show up (in minor accidents) then file a state vehicle accident report through a local police station or on the state's department of motor vehicles website
Notify the rental agency about the accident, immediately if possible, if not then within 24 hours
Check your rental contract to see if there's a number to call for the office where the car was rented…if not then call the company's emergency roadside assistance number instead to report the accident
Follow directions of the rental company concerning the drivability of the rental car or securing a replacement vehicle to continue your trip
Be aware of the insurance coverage available through rental agencies. If no rental insurance was purchased your personal insurance will be the primary insurance
Tips in Case of a State Vehicle Accident
Follow steps listed above in "Tips in Case of an Accident", and add the following steps:
Call the police, even with very minor accidents where negligible damage occurs
If the police do not show up (in minor accidents) then file a state vehicle accident report through a local police station or on the state's department of motor vehicles website
Notify the your department about the accident, immediately if possible, if not then within 24 hours
Fill out any applicable paperwork regarding the accident required by
FSU Environmental Health and Safety and your department
Traveling with a Trailer
Towing a trailer should only be attempted by drivers who have extensive towing experience
Documentation on ownership and insurance coverage of trailer should be kept with the vehicle
Ensure that the trailer has proper and up to date tags
Ensure cargo on or in the trailer is loaded compactly toward the front of the trailer, placing most of the weight on the tongue
Ensure that all cargo items are properly secured in the trailer
Be sure tire pressure is at recommended level, and check this often
When attaching trailer to vehicle, be sure that ball completely engages trailer hitch, lock hitch down and secure with safety pin, bolt, or lock
Connect safety chains in a crisscross fashion
Check trailer lights to ensure turn signals, flashers, brake lights and running lights function properly
Trailers significantly increase the distance needed to stop. Be aware of this and allow plenty of time for braking
Be aware of the added vehicle length by allowing extra room for changing lanes, passing, turning, and parking
During trips frequently re-check the trailer hitch and trailer lighting
To prevent trailer rollover, you must steer gently and travel slowly around corners, on-ramps, off-ramps, driveways, and curves
Never allow anyone to ride on or inside of a trailer – not even for a short distance
The gross weight of the vehicle should not exceed the manufacturer's suggested maximum payload
When driving in snowy conditions, chains are helpful on the trailer as well as on the pulling vehicle
Tips for Backing a Trailer
When backing a vehicle without a trailer attached, turn the steering wheel toward the direction you want to go. When backing a vehicle with a trailer, turn the steering wheel the opposite direction. Once the trailer starts to turn you must turn the wheel the other way to follow the trailer
When backing try to position your vehicle so that you can back in a straight line
If you must back on a curved path, back to the driver's side so you can see
Back slowly in order to make corrections before getting off course in backing
Use the mirrors to keep watch on the trailer while backing
Correct drift immediately – as soon as the trailer begins to move off course
When backing off course, correct by turning the steering wheel in the direction of the turn.
Pull forward intermittently when backing, making pull-ups to reposition the vehicle
Always use a spotter when backing a trailer to avoid blind spots
Tips for International Travel 
All students participating in a university-sponsored or affiliated international experience including study, research, internships, service or conference attendance must meet the following requirements as per the FSU travel policy.
FSU Requirements for Students Participating in an International Experience:
Must be registered with FSU International Experience Database
Must be in compliance with FSU's Student Health Insurance Requirements
Must register their travel with the US Department of State prior to departing the United States.
RSOs wanting to fund International Travel must follow additional policies and procedures outlined by the University for safety and security, as well as fill out additional travel documents prior to submitting requests in Nole Central. To find details about all international travel requirements visit http://global.fsu.edu/Travel-Policy/Student-Travel-Policy. RSOs wanting to fund International Travel should visit the SGA Accounting Office at least sixty (60) school days prior to their trip to ensure they have to submit the proper documents with the University.
SGA's Overview of the Travel Process
Your organization is recognized with SAC, financially certified and you have secured funding through one of the ways detailed above to go on a trip and have your travel roster and travel request information ready to go.
Now how do you submit the proper documentation to go on and pay for your trip?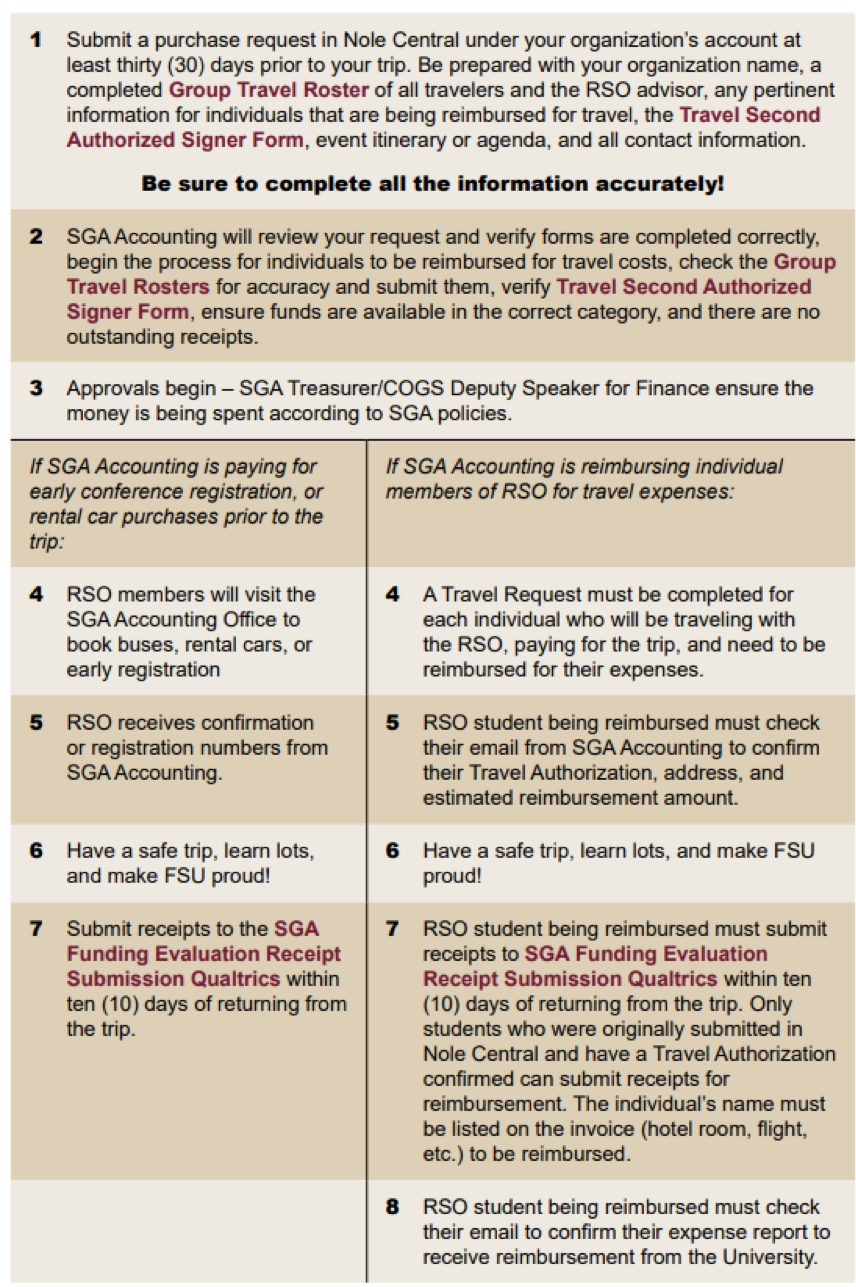 *For more information about SGA's travel process, please click HERE.
Helpful Links