Welcome to the Oglesby Fine Arts Gallery!
Located at the center of FSU in the Oglesby Union, the fine arts gallery is a space, where students, faculty, alumni, local and international artists can freely express their ideas through art. We value the traditional and contemporary art methods, which reflect the artist or group of artists to openly express their ideas to FSU and to the Tallahassee community in our art exhibitions.
The Oglesby Fine Arts Gallery is also available to reserve for special events.
Exhibit Application Submissions
The Oglesby Gallery accepts applications for exhibits year-round. The gallery is primarily a student gallery but we allow faculty, staff and friends of the University to show. Local artists are encouraged to apply. All entries will be subject to a panel review. There is no fee to enter and no sales commission.
Current Exhibit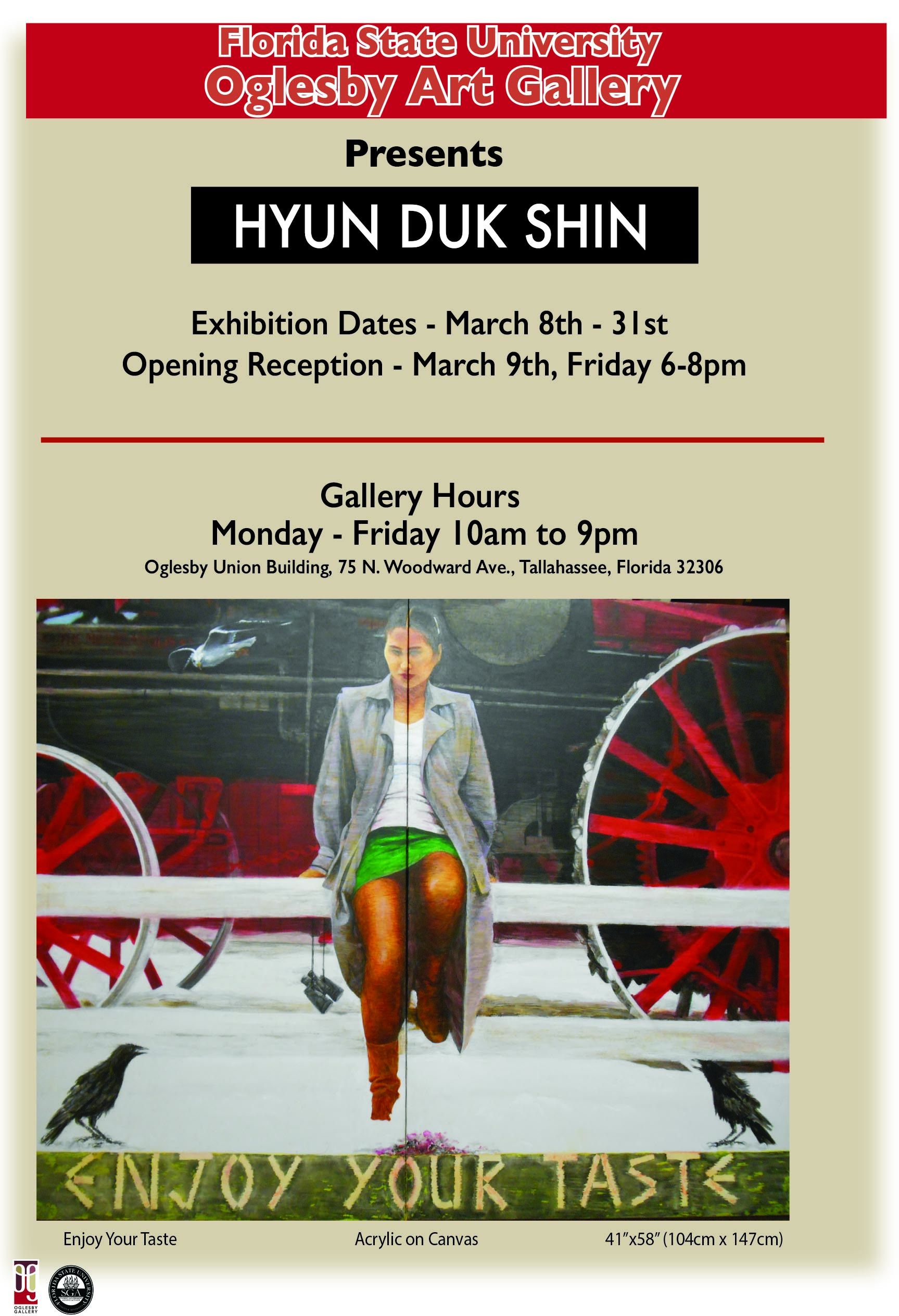 Oglesby Art Gallery presents a new Art Exhibition by international artist Hyun Duk Shin starting March 8th – 31st.
The opening reception is March 9th from 6 pm to 8 pm.
The Gallery hours are Monday thru Friday 10 am to 9 pm.
Hyun states, "The picture surface of my painting does not force the viewer to recognize it as any visual sensation, tells no complicated story, and has no specific moral, no sophisticated plot and no stage direction. Simply, it is an optical expression, an arrested moment, which the faculty of mind develops the personal experience to the free subject of the viewers imagination rather than reason and the function through the feeling (emotion) than through thinking. It appeals not to our intellect, but to our emotions in striving to evoke compassion and desire without offending any sense of absurdity in gender issues, if not always its esthetic taste." Come to the gallery to view our new exciting art exhibition!
title-inside title-centered
2