Daddy Longlegs: The Laughter and the Games and the Tears and the Guilt, the Whole Rollercoaster of Love
---
Daddy Longlegs: The Laughter and the Games and the Tears and the Guilt, the Whole Rollercoaster of Love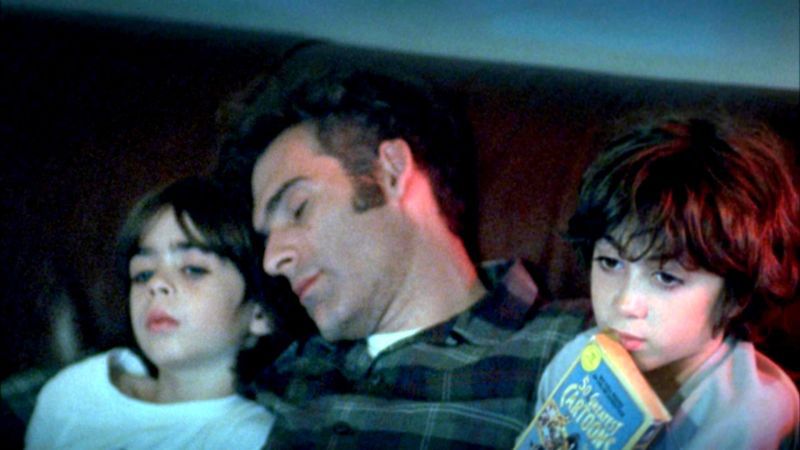 Daddy Longlegs: The Laughter and the Games and the Tears and the Guilt, the Whole Rollercoaster of Love 
The film fades in, and a piece of text appears, "For Our Father, for Fun as a Responsibility, for the Middle Perspective, a Lost Past, Lights on During the Day Time, Lost Love but Still Something There, Excuses, the Fridge Full of Games, Small Apartments & Our Mother." For the next hour and forty minutes, these seeming words of a trivial dedication metamorphose into tactile images, sounds, and raw emotion.   
Daddy Longlegs (2009), the first feature-length film co-directed by Josh and Benny Safdie, follows the common screenwriting aphorism, "write what you know," which the two followed intently, creating something almost completely autobiographical about their childhood. Daddy Longlegs follows Lenny (Ronald Bronstein), a father who only gets to see his two sons, Sage (Sage Renaldo) and Frey (Frey Renaldo), two weeks out of the year due to a court-ordered divorce settlement. In Lenny's mind, those two weeks must feel like a year to make up for the lost time. During those weeks, he teeters between being the boys' fun friend and their father. This is a line that is as blurry as can be, changing second by second, with no clear end in sight. As a viewer, you ride in and out of moments feeling love and empathy for Lenny and other moments where there is utter contempt for him. He is constantly attempting to make life's hardships into a game for his kids, trying to preserve what kind of innocence they have left. Lenny makes attempts over and over again, but his sons see right through him, and it's completely devastating and soul-crushing to watch. This façade that has been built up is so easy to see through. The close-ups on the boy's faces, as they look in disappointment, contrasted with Lenny trying to do his best. Admittedly most of his headaches are caused wholly by his lack of self-awareness. Lenny's love for his kids is substantial, but the way he relegates that love is strange and confusing.  
Memory does a weird thing where your brain distorts the past. The past, as you remember, isn't always true to what actually happened. However, it is accurate to how you feel and the recollection of your emotions. The constant battle between how you thought things were and how they actually played out. The Safdies approached Daddy Longlegs from both perspectives, as kids and adults. Josh said during a screening of the film that, "We wanted to make this movie where the child inside of us said love, love, love, and the adult inside of us is saying figure out what the fuck is going on here," the conflation between the head versus the heart. Lenny is trying to do the best he can, the best he is able to do, but he doesn't know what his best is. No matter how many times Lenny leads his kids astray or makes erroneous decisions, his love comes from his effort trying.   
"It's my screw-up. I'm entitled to screw up", Lenny states as he grabs his boys from their mother after being late to pick them up from school. This line has never left my mind; it has been etched into my psyche. The perfect embodiment of who Lenny is, disjointed and unaware, but not unfamiliar. Strapping the fridge full of games to his back, the gecko in the cereal box, the handstand with a pocket full of coins, crushing the sleeping pills, and the giant mosquito. All the laughter, and the games, and the tears, and the guilt, but in some way, it always eventually circles back to the love. 
Artist: Ethan Elkins
Writer: Ethan Elkins