The Good, the Bad, and the Elvis
---
The Good, the Bad, and the Elvis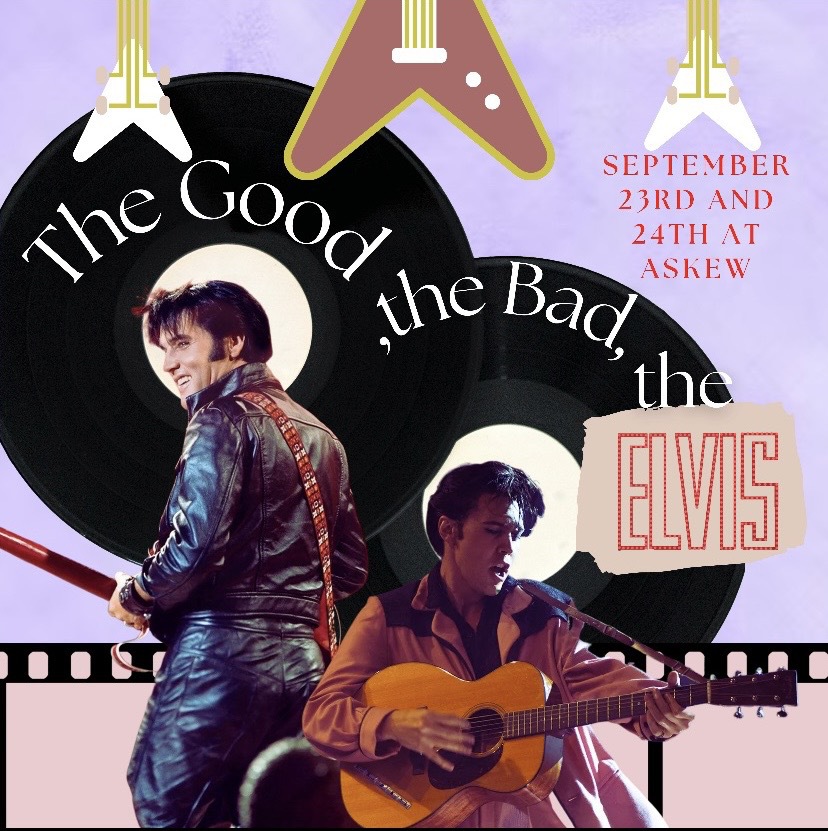 ELVIS starring Austin Butler follows the life of the king of rock and roll, but there are a few things that got overlooked, glamorized, and oversimplified for the sake of the screen. 
Did Elvis's relationship with his mom make you uncomfortable? 
Well, it should. The recent movie did accurately portray the fact that Elvis had a twin brother that died at birth, which resulted in him living alone with his mom while his father was in jail for most of his youth. This established a controlling and overbearing relationship that created an unhealthy idealization of his mother. While there is not enough evidence to confirm this fact, it remains under investigation by historians. Some of this idealization is reflected in his style. For example, Elvis often wore makeup on stage.
Did Elvis change the production of the "1968 Comeback Special" from a Christmas special?
Nope, this was simply aired in December. The idea of having a Christmas theme and having to rebel against Tom Parker was all made up for the movie. Since it was never centralized around Christmas, the iconic black suit was always meant to be. The rebellion added in the movie gives you a sense of how overbearing the managing relationship was on an artistic level. Similarly, the artistic process of Elvis's song "If I Can Dream" was changed for the movie for the sake of dramatics. Kennedy's assassination did not cause the writing of  "If I Can Dream." It was instead Martin Luther King's assassination which occurred 9 miles from Elvis's home. Elvis supported Dr. King and made a public statement that "Memphis was burning" before recording his song 2 months later.
Was Elvis drafted or escaping a prison sentence?
He was drafted but the timing was pretty ideal. The trouble he was in, however, was not for the scandalous moves and riots as seen in the movie. Instead, this was because his manager wrote to the army in an attempt to get him out of the draft due to his music career. There were death threats and legal action threats, but there weren't any grounds to file it on. Elvis only found out he had to go when the reply came out. Fans were furious that they shaved his hair for the army, but they were more than happy to buy some of the shavings.
Did he end up broke?
Extremely. After his death, Priscilla Presley did a phenomenal job of retaining his assets by turning "Graceland," Elvis's mansion, into a museum and founding "Elvis Presley Enterprises." The enterprise was not created by Parker to manage him; it was his father and his ex-wife preserving his legacy. At the time of his death, he had about $1 million left after taxes, which she turned into $100 million by 2020. His spendings were rather random and lavish. Some purchases included his beaded suits, renting out all of "Libertyland" to ride his favorite roller coaster, and redecorating hotels to feel like Graceland. His "Aloha" suit with the red, white, and blue eagle weighed about 75 pounds and would cost $204,000 to make today. He also often took trips to hospitals to surprise fans and clear their medical bills. 
With ELVIS recently being added to HBOMax, it is important to remember there is both fact and fiction in this movie. With extreme attention to costume, design, and mannerisms, this movie is a dramatic and fun take on the rock star's life. While you watch the film it is important to remember that Elvis is not just a character on a screen, but that there is a person behind the fame.
Written by: Alyssa Giaccone
Art by: Alyssa Giaccone